The Argos Communication service facilitates communication between Desktop Clients, the Argos Agent, and the Argos SQL database.
Health Page
A good deal of information about the Communication Service can be accessed via the Communication Service health page: http://YOURSERVERNAME:7080/cs/health

Service information
Argos version (Service Product Version)
Diagnostic logging location (Log #1, #2, etc)
Number of Pending print jobs in Argos (interactive and automatic)
Successful database connection (Last jobs synchronization result)
Billed jobs not yet posted to Argos database (local jobs)
Active projects (Cached billing codes)
Total number of users (Cached user accounts)
Auto-user merge setting (Auto merge new users)
Number of workstations connected to Communication service (Interactive clients)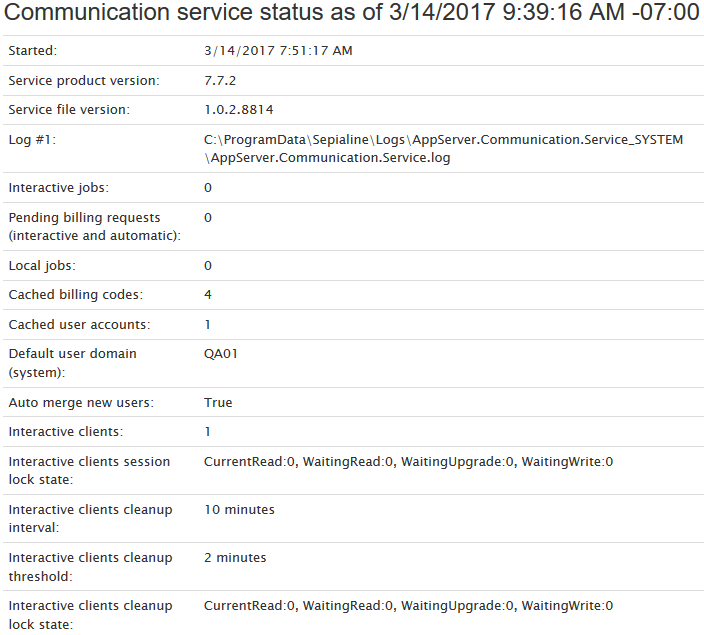 Connection Intervals
The communication service has a series of tasks that interact with the SQL Server on a series of schedules. In WAN environments, these times can be adjusted. Some of the settings are displayed on the health page. To see all configurable options, review our Optimizing Argos for WAN environments article.

Connected workstations
The health page displays a list of all workstations that are connected to the Communication service via the Desktop Client. Click the + symbol next to Active computers connected to this Communication Service to view details about the connected workstations. To search for a specific workstation, enter criteria into the Filter by: field. The following information is also displayed for each connection:
username
domain
machine name
IP address
Argos version
Operating system
Last connection
Number of pending jobs
This list is one of the best methods for determining if a workstation is connecting to Argos.

Recent jobs
Up to 50 recently billed jobs will be displayed at the bottom of the page. To search for a specific job, enter criteria into the Filter by: field.

Configuration Settings
There are a number of configuration settings that can be adjusted in the Communication Service configuration file. Some are listed here, with applicable knowledge base articles for more information.
The Communication Service configuration file is located at c:\Program Files (x86)\Sepialine\Argos7\Communication\AppServer.Communicaton.Service.exe.config.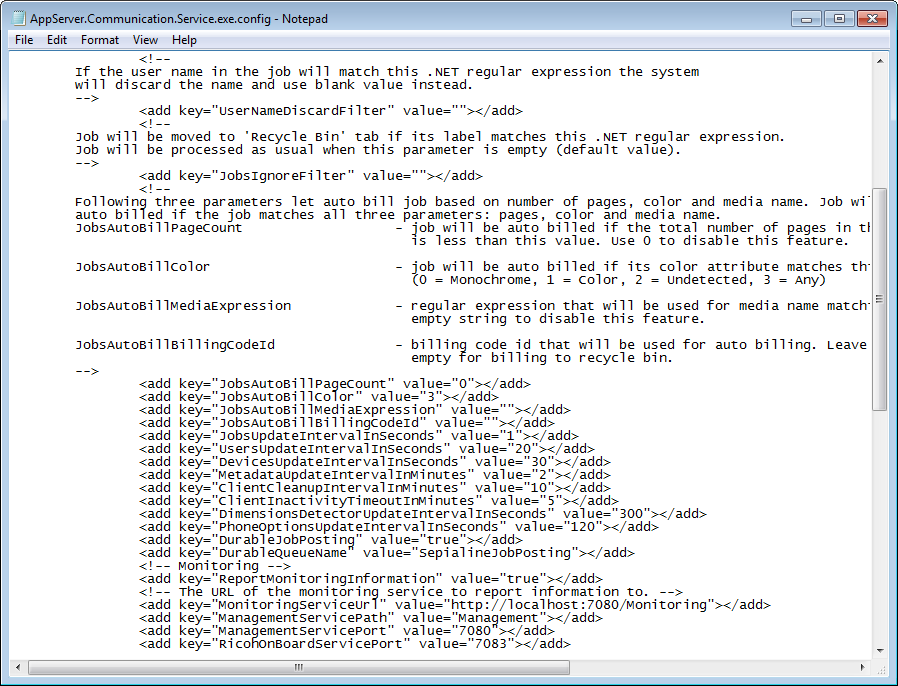 | | |
| --- | --- |
| | Configuration file changes are not stored during upgrades. Be sure to note any custom changes prior to upgrading to a newer Argos version. |