Companies that are concerned with reducing the amount of color printing can use the Color Print Confirmation Screen to remind users that color printing is inefficient.
Requirements
Argos 7.7.5 or higher
Users must print through Windows print queues (through a print server or direct to printer)
Postscript or PCL driver
All users who print to the print queue must have Argos Desktop Client installed (version 7.7.5 or higher)
The Color Print Confirmation Screen can be used on any Windows Postscript or PCL print queue, and is compatible with Secure Release, Global Print and OnBoard print tracking features.
Configuration
Open Argos Manager and click "Devices"
Double-click the printer that should require Color Print Confirmation
Click "Windows and Mac Queues" tab
Click "Edit" button next to the corect print queue

Uncheck "Use Default Print Configuration" box if checked
Check "Prompt Users to Confirm Color Printing" box

Click "OK" and close the dialog
Changing the Prompt Message
You can change the default Headline and Prompt Message that your users see by altering the Argos Communication Service Configuration. This change is only recommended for advanced users, please contact Sepialine Support if you are not comfortable with these steps. Incorrectly editing the Configuration file can cause your Argos system to stop working.



Open the Argos Communication Service Config file in a Text Editor. The default location is C:\Program Files (x86)\Sepialine\Argos 7\Communication\AppServer.Communication.Service.exe.config, but your location may vary
To alter the headline, change the ColorConfirmationHeadlineOverride value.
To alter the message, change the ColorConfirmationDescriptionOverride value.
Save and close the file
Restart the Argos Communication Service
Note: If your environment has multiple Argos Communication Servers, this change should be made on every server.
Configuration Notes
This setting is configured per print queue. If you only want certain users to receive the prompt, create multiple print queues for the printer, and only enable the Color Print Confirmation Screen on one queue.
If using Argos Global Print for pull printing with a single exposed print queue, only the exposed print queue requires the Color Print Confirmation setting.
What the Users See
To test the functionality, send a color print (a Windows Test Page will work) to the printer. The following message appears: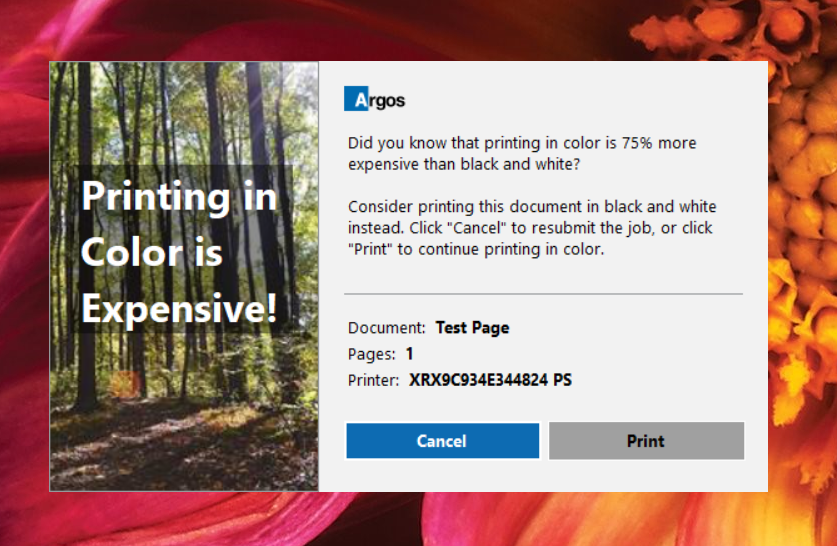 Click "Cancel" to cancel the print, or click "Print" to send the print.
If the user and printer are configured for Interactive Billing, the user will see the Argos Desktop Client after the print is submitted. They will not see the dialog if the print is cancelled.
Canceled Print Reporting
To see the number of print jobs that were canceled by the users after seeing the prompt screen, run a Canceled Jobs report from the MPS tab in Argos Manager.

Make sure "Canceled By User" is selected in the filter.