In some network environments, Sharp copier are not able to communicate using SSL and will generate the error shown below: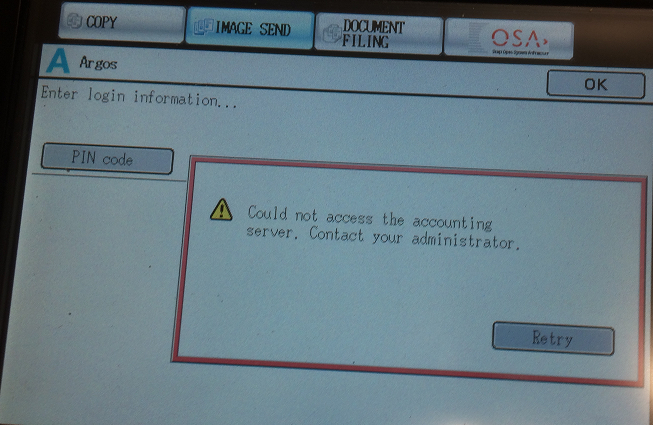 To disable SSL communications for the Argos OnBoard for Sharp agent, follow the steps below:
On the Argos Application server, browse to the C:\Program Files (x86)\Sepialine\Argos7\SharpOnBoard directory. Right-click on the AppServer.SharpOnBoard.Service.exe.config file and select Edit.
Search the file text for SharpOnBoardEncryptedTransport and change the associated value to False. Save the file changes.
On the Argos server, go to Start > Run, type services.msc and click OK.
In the services window, right-click on the Argos OnBoard for Sharp service and select Restart.
In a web browser, enter the IP address of the Sharp MFP into the address bar. Enter administrative credentials (default: L/N=admin P/W=admin) and click Login(P).
On the left side of the window, click Application Settings > External Applications Settings > External Accounting Application Settings. In the External Accounting Application Settings window, change the entries for the Address for Application UI: and Address for Web Service to use http instead of https. Click Submit(U).
Click Reboot Now(C).