Argos Secure Release can be enabled for any Windows print queue. With Secure Release, print jobs are held at the server until released at the device panel, or via Argos Mobile running on your handheld devices.
Requirements
Argos 7.7 or higher
Users must print to a sever-based Windows print queue
Argos OnBoard application installed on MFPs, or Argos Mobile application installed on iOS/Android devices, or Argos Release Station running on an Android Tablet
Configuration
Open Argos Manager and click "Devices"
Double-click the print queue you'd like to manage
Click "Secure Release" tab
Click the button under "Edit" and check the box for "Enable Secure Release/Global Print"
Click "OK"

Tracking considerations
If you also want to track the print jobs after they are released, select "Track printing" on the "Windows and Mac queues" tab. However, if you are using an Argos OnBoard MFP application that tracks printing at the device, you should make sure "Do not track printing" is selected.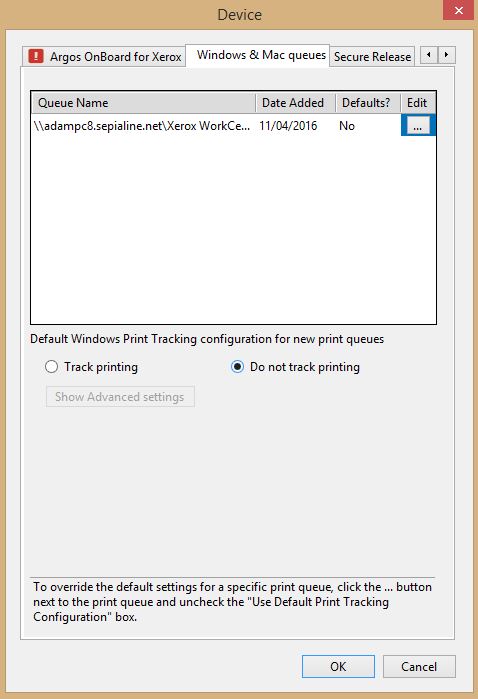 Print Driver Configuration
The Windows print driver for any Secure Release-enabled printer should be configured to use the "Start printing after last page is spooled" option.
Open "Devices and Printers" on the server or workstation hosting the print queue
Right-click the Printer and choose "Printer Properties"
Click the "Advanced" tab
Confirm that "Spool print documents so program finishes printing faster > Start printing after last page is spooled" is selected

Click "OK"
If "Start printing immediately" or "Print directly to the printer" is selected, Secure Release will not work correctly.
Print Release Options
Printing can be released via the following tools:
Argos Mobile for iOS devices
Argos Mobile for Android devices
Argos OnBoard for Konica Minolta
Argos OnBoard for Sharp
Argos OnBoard for Xerox
Argos OnBoard for Canon
Argos OnBoard for Toshiba
| | |
| --- | --- |
| | Printing from a Mac? Mac printing can be routed through shared Windows print queues that are managed by Secure Release. |