What is Argos OnBoard for Sharp?
Argos OnBoard for Sharp enables user authentication on the panel of your MFP, provides Secure Release and Global Print functionality, and tracks all copy, print and scan activity. Argos provides Single Sign On access to other OSA applications and can set different printing limits and restrictions for different users.
Learn more about Argos OnBoard for Sharp.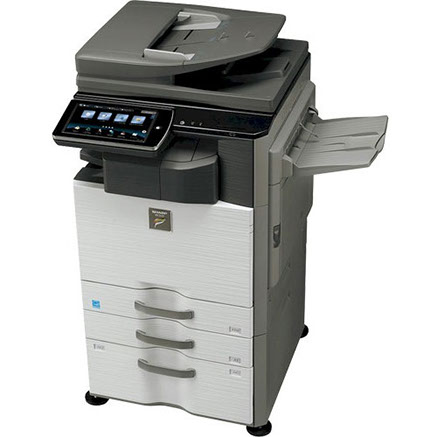 Try a fully functional 10-day trial of Argos today!

Setting up Argos OnBoard for Sharp
To install, you will need the following:
Compatible OSA-enabled Sharp device (OSA 2.x-5.x)
Sharp AMX-3 External Account Module license
IP address of the Sharp MFP
Configuring your device to work with Argos:
Configure the authentication method:
Configuring your Sharp device in Argos Manager
Once you reboot your Sharp MFP, it will appear in Argos Manager and start tracking. The name will be set as the device's serial number, and it will appear in the default device group. To change these settings, follow these steps:
Open Argos Manager and select the Devices and Terminals tab                                                                                                                                                      
In the Default device group, the new Sharp MFP instance will appear with its serial number and an Argos Sharp OnBoard label.
                                                          
Double-click the device name to open the instance properties. On the Device Information tab, enter a name for the device, and optionally set the Group, Location, and Owner. Click OK.
NOTE: After you've completed the Sharp Onboard setup, it is very important that you disable tracking on the windows/Mac queues for this device in Argos Manager.  This is to avoid double-billing from the different tracking methods moving forward.
Secure Release
Argos Secure Release is available for Sharp devices. Follow these steps to enable and configure.
Sharp MFP Knowledge Base Articles
Enabling Pin Code authentication for Sharp MFPs
Enabling Active Directory Authentication for Sharp MFPs
Enabling Proximity or Swipe card authentication for Sharp MFPs
Configuring print tracking without walkup authentication on Sharp MFPs
Users Unable to Access Sharp OSA Functions
Sharp OnBoard for Argos could not access the accounting server
Compatible Devices
MX series
MX-1800N, MX-2000F, MX-2010U, MX-2300FG, MX-2300G, MX-2300N, MX-230x, MX-2301N, MX-2310U, MX-2314N, MX-2600N, MX-2610N, MX-2614, MX-2614N, MX-2615, MX-2640N, MX-2700FG, MX-2700G, MX-2700N, MX-3100N, MX-310x, MX-3110N, MX-3114N, MX-3115N, MX-3140N, MX-3500FN, MX-3500N, MX-3501FN, MX-3501N, MX-360x, MX-3610N, MX-3640N, MX-3060N, MX-3560N, MX-4060N, MX-4100N, MX-4101N, MX-410x, MX-4110, MX-4111, MX-4111N, MX-4140N, MX-4141N, MX-4500FN, MX-4500N, MX-4501FN, MX-4501N, MX-3070N, MX-3570N, MX-4070N, MX-5070N, MX-6070N, MX-5001N, MX-500x, MX-5070N, MX-5111, MX-5111N, MX-5140N, MX-5141N, MX-5500N, MX-6200N, MX-6201N, MX-6240N, MX-6500N, MX-7000N, MX-7001N, MX-7040N, MX-7500N, MX-900N, MX-M904,MX-M753, MX-M850, MX-2651, MX-3051, MX-355, MX-4051, MX-3071, MX-3571, MX-4071, MX-2630N, MX-3050V, MX-3550V and MX-4050V, MX-3070V, MX-3570V, MX-4070V, MX-2651, MX-3051, MX-355, MX-4051
MX-M series
MX-M502N, MX-M503N, MX-M1054, MX-M1100, MX-1100N, MX-M1204, MX-M264, MX-M264N, MX-M266N, MX-M282N, MX-M283, MX-M283N, MX-M314, MX-M314N, MX-M316N, MX-M350, MX-M350F, MX-M350N, MX-M350U, MX-M354N, MX-M350F, MX-M350N, MX-M350U, MX-M354N, MX-M362N, MX-M363, MX-M363N, MX-M365N, MX-M450, MX-M450F, MX-M450N, MX-M450U, MX-M452N, MX-M453, MX-M453N, MX-M464, X-M465N, MX-M550, MX-M550N, MX-M550U, MX-M564N, MX-M565N, MX-M620, MX-M620N, MX-M620U, MX-M623, MX-M623N, MX-M654N,MX-M700, MX-M700N, MX-M700U, MX-M753N, MX-M754N, MX-M850, MX-M904, MX-M950, MX-M1100
MX-B series
MX-B38x, MX-B40x
MX-C series
MX-C301W, MX-C311, MX-C312N, MX-C381, MX-C401