Argos reports are created using Crystal Reports and can be customized to fit your needs.
Implementing custom reports
To implement a custom report, save the report file into the C:\Program Files (x86)\Sepialine\Argos7\Manager\Reports\en-us directory and restart the Argos Manager program.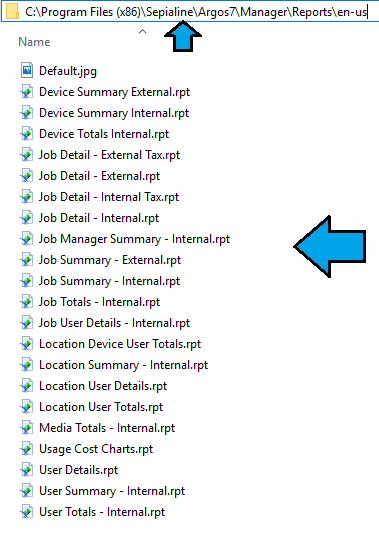 The new report will then appear in Argos Manager > Reports & Data > Gallery tab.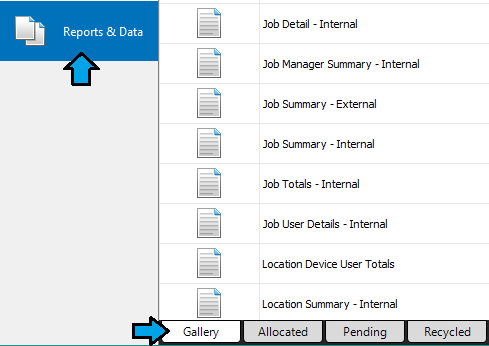 Sharing reports with multiple computers
Rather than copying customized reports manually to each workstation, its possible to set up a central report location on the network. Any new reports added to this folder are automatically added to all workstations running the Argos Manager.
Follow the steps listed in our Argos report folder location documentation on each workstation running the Argos Manager software to re-direct where Argos looks for the report files.
Customizing your own reports
If Crystal Reports software exists in your environment, the reports can be customized in-house.
On one of the systems running Argos Manager, browse to the C:\Program Files (x86)\Sepialine\Argos7\Manager\Reports\en-us directory and copy the report file(s) to be customized to a folder on the system running Crystal Reports.
Before making any changes to the report, save the report file with a new name; typically prefixing the name with your company initials (i.e. 'ABC Device Summary External.rpt').
Within Crystal Reports, create a connection to the Argos database by selecting Database > Log On or Off Server...
In the Data Explorer window, click the + symbol next to Create New Connection > OLE DB (ADO)
In the OLE DB (ADO) window, highlight SQL Server Native Client 11.0 and click Next.
In the Connection Information window, enter the server name, instance name (if used), SQL user id, password and database name (defaults: Server = ServerName\ARGOS, User ID = sa, Password = s3p14_lin3, Database = Argos7). Click Finish.
Back in the Data Explorer window, click Close.
Select Database > Database Expert...
In the Database Expert window, expand the selection next to the server instance configured in step #6 > Argos7 (or custom database name) > dbo > Views, highlight argReports and click the greater than sign (>) to add the view to the Selected Tables: list. Click OK.
Select View > Field Explorer, if the panel is not visible.
In the Field Explorer pane, expand Database Fields > argReports to access the available fields for the report. A list of available field definitions can be found here.
To view the report populated with sample job records, the report can be opened within Argos Manager. Alternatively, from Crystal Reports select View > Preview Sample...
In the Preview Sample window, select the radio button next to First 100 records. Click OK.
In the Enter Values window, accept the default selections and click OK.
In the OLE DB (ADO) window, enter the connection details for a system hosting an Argos database and click Finish.